Yup, we did it. The dust has finally settled enough after our move for me to write about it. You know, all that boring stuff that has to be done whenever you move; switching over the utilities, finally getting Wifi, learning your new rhythms in a space. Well, we're just about done with that here in sunny CA.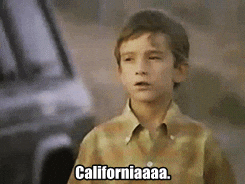 I'm so thankful and touched by all of you who have reached out and asked how we're doing or have been praying for us. You truly have surrounded us with community, which were so grateful for having left our family back home. 
I wanna give you guys an update, tell the story of our move, and give y'all some tips for moving with babes that I wish I would have known.  
A lot of you might not know this but we actually moved without having a secured place to live once we got here. I didn't share that publicly because I didn't want my relatives to worry about us. But, alas it's true. We packed up everything we could fit in the back of a pickup truck, squeezed everyone inside and took off. 
It took us 4 days to get here, about 10 or 12 hours each day in the car. We pulled into our new town and immediately I started getting anxious "holy crap, we actually did this.. now what?" 
We spent a lot of time praying those first few days, witnessed our first wild fire, spent a little time at an evacuation center, and met a very sweet woman and her grandson who invited us into her home for a night. 
Looking back, one person's hospitality made such a difference in my attitude toward this new town. It's actually difficult to write about because I was so homesick at this point. But having been welcomed like that just felt like "You are seen, you are cared for."  Not to mention it was so good to finally eat a home cooked meal! 
After about three days we miraculously found a place that allowed pets, was the right price, and had enough space for all of us. It wasn't ready to move into for another week so we holed up in a hotel until it was. 
When it was finally ready we moved all 9 boxes in. It was the easiest move ever! We we're getting settled and doing all the fun stuff you do with a new place; deciding where the plates and cups go, vowing to never let the house get messy (we all know the truth), and dreaming about how you're gonna decorate.  
In the midst of that I just felt a wave of resentment wash over me. I recognize now that it was homesickness, but all I could think of was how much I hated it here. I spent the day just kind of wallowing in that but quickly got sick of it. I grabbed my journal and wrote down everything that I could possibly think of to be thankful for about our new home. At first I was forcing myself to think of things, but by the end I was actually thankful.
Since then, when I catch myself getting frustrated that we still don't have couches or chairs, I force myself to think of what I'm grateful for and it changes my attitude. 
Seth started school last week and is learning a ton. We have big goals to help people all over the world and this move is just the beginning!
Our 4 day drive with three preschoolers went surprisingly well and these are some of the tricks we used to keep everyone sane. 
1) Trip Bags
My in-laws actually told us this trick. Anytime you go on a long trip, head to the dollar store first and pick up fun activities and toys for each kid. For older kids you can give them their bag at the outset of the trip. Ours are so young so I had a canvas bag full of treasures in the front seat with me. Anytime we could tell they were getting restless we'd pull out a distraction. Worked like a charm. 
Some of my kids favorites:
-Cheap handheld fans. I know it sounds dumb, but they played with these longer than anything else. 
-Pin impression toys. This bought us at least two hours.
-Scavenger hunt card games. Make sure you play in a populated place so the kids can actually find the objects on the cards. Not in say... rural Nevada. 
-Cheap calculators. Kid's love to press buttons and a cheapy calculator can double as a phone! Win win! 
2) Movies and Books on Tape
We watched just loads of movies on our trip. I know some parents aren't fans of that much screen time so I'd also suggest loading some recorded children's books on Spotify. This is the station we listened to and we have these portable DVD players. They attach to the back of the headrest and can play one movie on both screens. We also grabbed some visor CD holders and loaded them full of movies so that they were easily accessible and didn't take up nearly as much space as DVD cases. 
3) Take Advantage of Parks Along the Way
I wish we would have stopped off and let the kids play more often. They get so stinking restless and need to burn off energy. I imagine we would have saved ourselves from so many meltdowns if we'd done this. With little ones on really long trips it's important to take your time. 
4) Show Them Where You're Going
A dear friend of ours gave us an atlas before we left and we looked at that thing all the time! I think it was especially helpful for the boys to physically see how far we had gone and where we were headed. You could even print off simple maps with a route drawn on for each child to hold onto during the trip. I'd suggest laminating them if you do. 
5) Snacks
I mean enough said right? We stocked a little bag full of snacks and dolled them out as needed. Food is always good for morale. You could pack a cooler if you want with things like cheeses and yogurts but that just wasn't plausible for us. Instead we did your typical kids lunch snacks but I also made sure to add in nuts, dried fruits, and jerky so that they weren't just loading up on carbs. (too much sugar makes my kids notoriously cranky). 
We're going to have to make this journey a few more times, so if you have kids travel tips, I'm all ears! 
Please reload